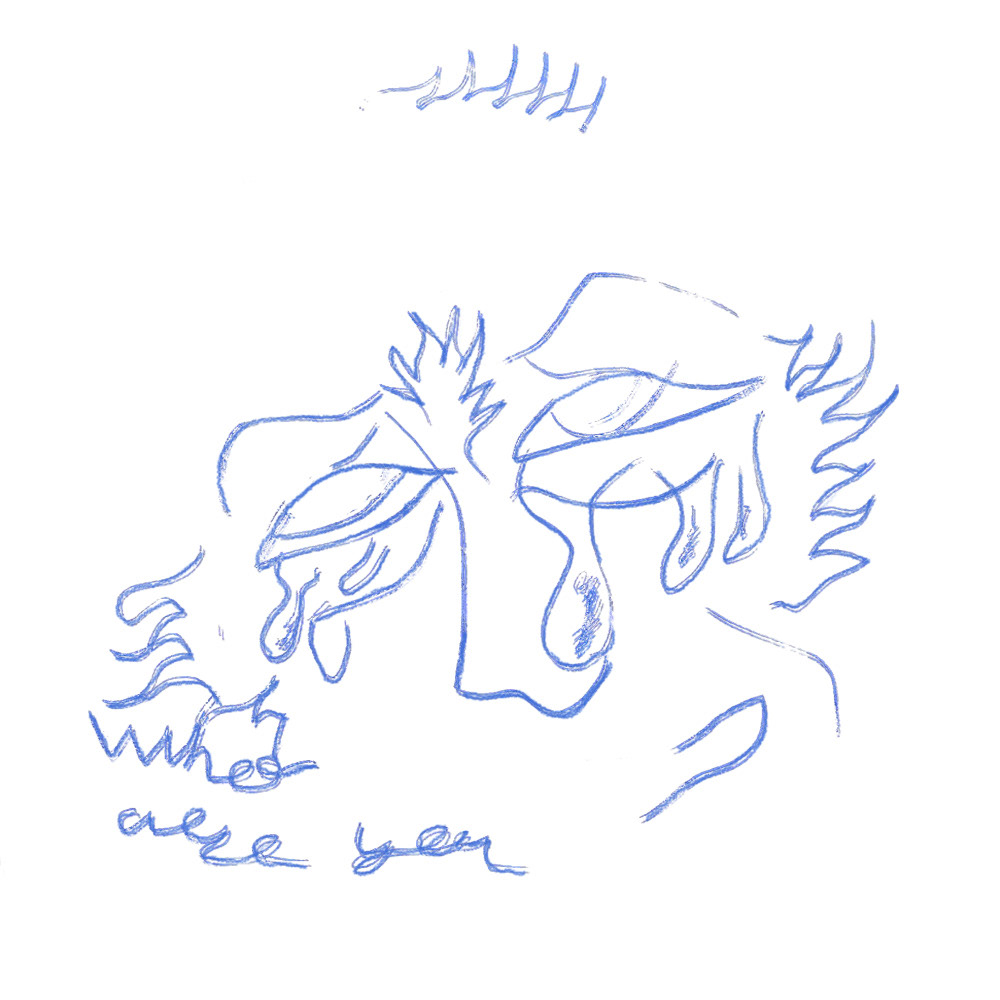 Drawing by Aldo Urbano
My wife and I traveled to Spain to an artists' residency in a small village situated on the side of Montserrat one hour northwest of Barcelona. We had just gotten married, and I was leaving the United States of America for the first time in my life. I've never been to Canada or Mexico prior to traveling to Spain on a plane in 2016. My wife, on the other hand, had lived in South America and also Spain for extended periods of time. Working in a tapas restaurant for five years was my only connection to Spanish culture. One year before we arrived in Spain, we were researching artists' residencies abroad and in the United States. We decided on Can Serrat in Spain and submitted the following artist proposal:
During the residency at Can Serrat I will be creating a multimedia project in collaboration with my partner and also resident artist, Brook Helen Thompson, involving: music, painting/printmaking, writing/poetry and performance/video, with the goal of exploring a joint creative process and dialogue between aforementioned media.
After patiently waiting for a few months, we received an email stating that we were accepted into the artist residency.  Our artistic collaboration started three years before traveling to Spain. We installed an abstract/geometric wheat-paste (medium used to glue paper to a surface) completely covering two large pillars in a warehouse recording studio in downtown Minneapolis on one of our first dates.    
Traveling to Spain was the beginning of our family dynamic and my first time far away from home. It was the perfect beginning, a blank canvas in our lives together. Speaking frankly, this was a crash course in seeing how European cultures interact with one another. I was also under the impression that this experience would allow me to find a new side of myself. Prior to traveling to Spain, my wife had mentioned to me how much Spain had inspired her creativity. Hence, I was delightfully waiting for Spain to ignite my creative energy.
Our plane arrived in Barcelona, and we traveled by bus to El Bruc. I remember my initial reaction when we arrived being excited and nervous because this was something new and unknown. The conversations flowed deep into that first evening with the cheap wine, and creative minds at play with one another. The more we opened up about our artistic adventures the more the group engaged in the conversation. This was unusual for me because I'd never experienced talking with so many artistic people at once.
Since we were staying up late and building friendships with the other artists, our days in the studio would start at 2:00 in the afternoon most days. The creative ideas that were developed came from our late night talks with artists from South Africa, Spain, and Germany. I remember the two friends from Barcelona who inspired my creative thinking musically and visually. Daniel and Aldo had been friends for quite some time and were both very interesting individuals. Daniel is a musical genius who loves creating noise and innovative sounds. *Aldo is the artist that created the drawing at the top of the page. I could watch Aldo draw for hours. It was mesmerizing watching his blue marker dance on paper.
The day after we arrived we were given the grand tour of the residency. The main building was three centuries old and full of spirits that lingered in the night. It was also overshadowed by a giant, magical, multi-peaked, stone mountain, Montserrat. Legend has it, aliens visit Montserrat once a month, as well as alien enthusiasts.  I remember the chickens and feral cats "Cat fights!", roaming freely throughout the property and being told specifically not to keep doors open for that reason. My wife and I loved the cave that was 50 feet from the main building. We realized this would be a perfect location for filming and creating music. The print studio where the etching press was located was in an old wine cellar connected to the main building. We set up our painting and drawing studio in this room, known as the bodega.
El Bruc, the village where the cheap wine and food was located, was a twenty minute walk from the residency. We walked to the village at least three times a week to gather supplies, wine, and clear our minds. It was on our walks when we were able to spend time alone talking about life, art, and discussing new ideas. The most amazing experience for me was seeing the large vats of freshly made wine at a little store in the village. One gallon of freshly made Spanish wine was cheaper than one gallon of milk. Basically, what I'm trying to say is that we consumed a lot of red wine in one month.
In our final week we all shared what we had been creating at the residency. My wife and I created an avant-garde music video and displayed it on the ancient cellar wall in bodega. The core elements of the video were filmed at night in the cave. We added photo stills of our paintings, poetry, linocut prints, and works in progress. The music for the video was my wife playing the piano and I added noise with a portable synthesizer. It felt good to see it all come together in that final week of creating art. It was also wonderful to see all the art that was created by everyone else.      
With the overpowering inspiration from the artists' residency, we were able to hone in on our craft completely. The experience at the residency was the incubator for all our future creative endeavors.
When we arrived home we wanted to create a piece of art in our neighborhood that reminded us of our trip. The spring after we returned from Spain we designed and painted the "Love Mural" at Bryant Ave S & W 36th in Minneapolis.